From the drylands of Sudan to the gardens of Quito – our solutions are in nature!
Published: 21.05.2020
---
The current global Covid-19 pandemic shows once again how vulnerable human societies are to (human-animal) transmissible infectious diseases such as COVID-19. The megatrends of recent decades - globalisation, urbanisation, loss of biodiversity and climate change - have strongly contributed to the blazingly quick development of COVID-19 into a global pandemic. The resilience of ecosystems has been weakened, natural resources overused, and wildlife habitat reduced, increasing the likelihood of infectious diseases, zoonoses and global pandemics. COVID-19 should therefore not only be seen as a short-term health crisis, but as the most recent sign of an existential environmental and climate crisis on Earth. Therefore, we urgently need solutions responding to challenges to sustainable development and human wellbeing & health. Solutions that contribute to maintaining or improving the health of biodiversity and ecosystems.
The global learning and knowledge initiative PANORAMA provides practical examples from the ground that illustrate the motto of this year's International Day for Biological Diversity: "Our Solutions are in Nature". Currently 600+ PANORAMA Solutions  - specific, applied examples of successful approaches, told from the perspective of practitioners - are shared on the online platform. These integrated Solutions for ensuring human needs are met while conserving nature enable us to learn and benefit from other people's lessons in using our natural environment sustainably, rather than re-inventing the wheel again and again.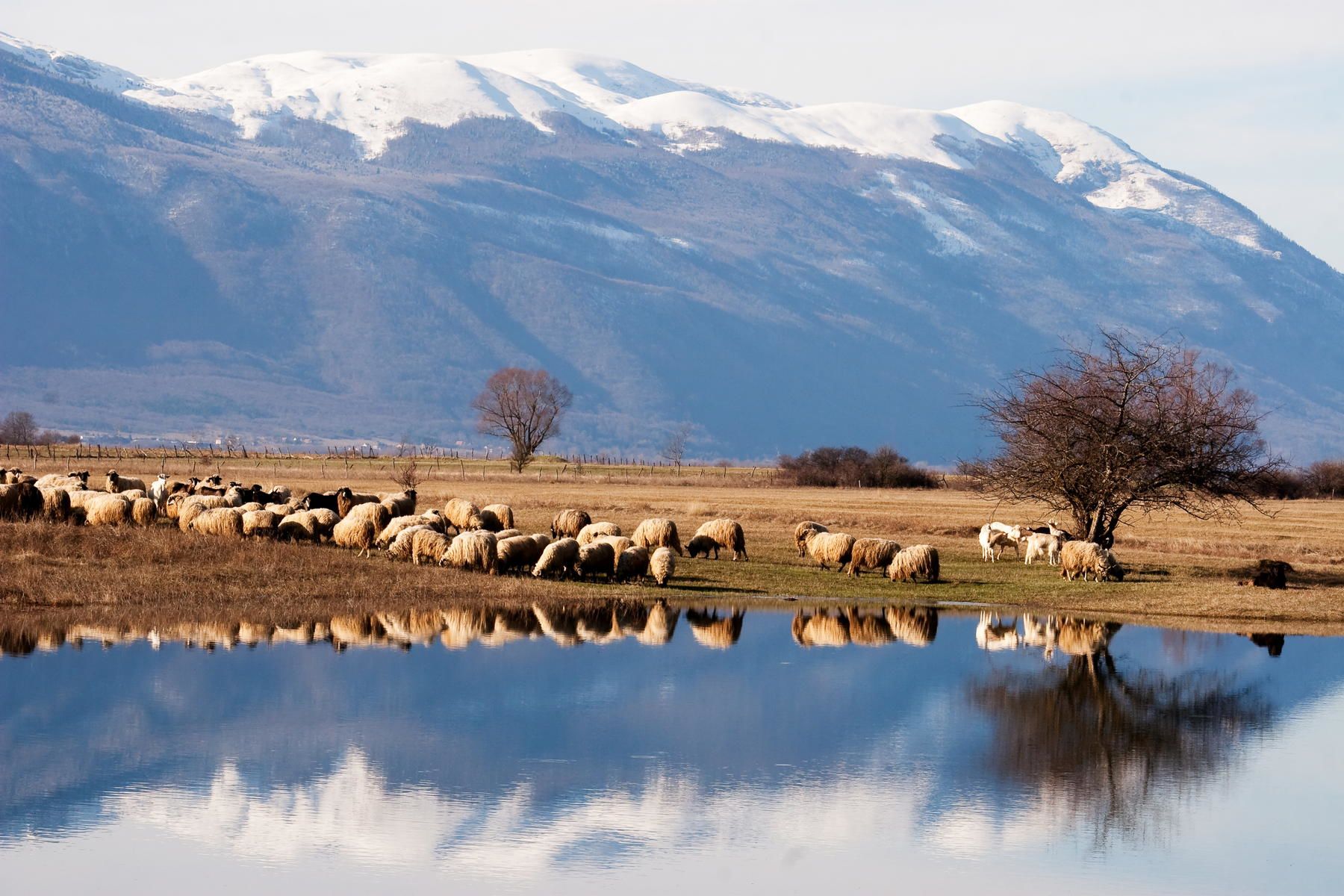 Transmission routes for infectious disease agents can be restricted or even closed, e.g. by preserving intact ecosystems, by sustainable agricultural management, by restricting and regulating trade in wildlife products, by hygiene standards, and by food safety and education measures. There are therefore starting points and challenges in many thematic areas that require a variety of solutions with holistic approaches. PANORAMA promotes its Solutions across multiple, inter-linked "thematic communities" with different focus areas.
Let's delve into PANORAMA's thematic communities and learn about a few specific Solutions that hold valuable learnings in light of the current crisis!
Marine and coastal ecosystems are fundamental for human well-being and provide a range of valuable services. The Solution "Community-based aquaculture development and marine protection" (Zanzibar) addresses poverty reduction in Zanzibar with coastal communities. Ecological aqua farming of bath sponges with women promotes healthy economic growth, reduces environmental pressure and threats to marine life and other natural wildlife, improves public health and strengthens the economic and social status of women.
Protected and conserved areas have an important role to play in supporting people's physical, mental, social, spiritual and emotional well-being. In recent years, a growing body of evidence linking parks (and natural areas more broadly) – particularly in urban areas - to improved health and well-being has emerged. Most PANORAMA solutions relating to protected areas and health indeed relate to urban green spaces. An example is the Park Walks Programme (Australia), Australia's largest network of free community based walking groups. It demonstrates a successful collaboration model between volunteers, government and non-government agencies to increase opportunities for physical activity while exploring new natural environments.
Ecosystem-based Adaptation (EbA) is a nature-based solution that is gaining significant importance in the context of climate change and biodiversity conservation policies. EbA helps people adapt to climate change through active use of biodiversity and ecosystem services, such as fertile soil, clean water and food as well as extreme event buffering and climate regulation. PANORAMA identifies and promotes EbA related Solutions  such as "Food security and disaster resilience through sustainable drylands management" (Sudan). This Solution showcases a combination of ecosystem-based measures and grey infrastructure to increase food security in the face of drought and flash floods, while strengthening environmental governance at the local level.
Investing in agricultural transition increases food security, reduces the burden on biodiversity, soil and water and thus also increases the health and resilience of people and ecosystems. A transformation of global land use and the food system is urgently needed to adequately meet the challenges of climate change, to protect biodiversity, to ensure sufficient and healthy food for all and to ensure sustainable, climate-friendly and low-emission rural development. The Solutions in PANORAMA's thematic community on Agriculture & Biodiversity show how these approaches - among others - can be implemented concretely and successfully. The Solution "Quito's Participatory Urban Agriculture Programme" (Ecuador) demonstrates the role of urban agriculture for wider social, ecological and economic development and how it fosters food security, increases incomes, and enhances ecosystem functions.
The overarching goal in a post COVID-19 world must be to revitalize the economy in a transformative, sustainable way. This should take into account the objectives of the Paris Agreement on climate change and the Agenda 2030 on sustainable development, decreasing vulnerability to pandemics and other threats, while at the same time setting the course for climate-neutral, socially inclusive and resilient societies.
The practical examples from the PANORAMA case study portfolio illustrate that, clearly, our solutions are indeed in nature.
---
The inseparable link between biodiversity on the one hand, and human health on the other hand is of central importance for the prevention of pandemics: protected areas and sustainably managed landscapes prevent the fragmentation of ecosystems and reduce the frequency of human-wildlife interactions. At the same time, integrated nature-based solutions such as those presented in this article – and many others found on PANORAMA – strengthen the resilience of human communities to future crises, by reducing poverty and ensuring food security.
PANORAMA – Solutions for a Healthy Planet is a partnership initiative to document and promote examples of inspiring, replicable solutions across a range of conservation and sustainable development topics, enabling global, cross-sectoral learning and inspiration. Learn more: www.panorama.solutions
Photo credits
Header/ Section 1: Rich in biodiversity: U Minh Thuong National Park. © Sharon Brown
Section 2: 1st Grazing in the Livanjsko polje, Ramsar site. © A.Vrdoljak WWF Adria 2nd Landscape © European Park Marittime-Mercantour
Section 3: Giraffe on Lewa facing Mount Kenya. © Ian Lemaiyan/Lewa Wildlife Conservancy
Section 4: Woman looking for octopus. © Blue Ventures
Section 5: Green Turtle coming up to nest. © Seychelles Islands Foundation
Section 6: Área de bofedal protegida por el cerco. Yanacancha, Miraflores, Perú. © E. Gleeson
Section 7: Virginia Working Landscapes citizen scientists. © Smithsonian Conservation Biology Institute
Section 8: Aerial photo of village in North Dafur, Sudan © UNEP
Section 9: A young woman picking tea leaves on a tea plantation in the Upper Tana Watershed, Kenya. © The Nature Conservancy
Section 10: Happy child in an urban garden in Quito. © CONQUITO
Section 11: Machakhela National Park © Irakli Tabatadze
Section 12: 1st : Investigadores locales en Canchayllo. © The Mountain Institute
2nd : Caught octopus. © Blue Ventures 3rd : Agriculture. © IFAW
Section 13: El Triunfo Biosphere Reserve. © JorgeSilva

© IUCN and GIZ, on behalf of the PANORAMA partnership.